In stock
Towable Solar Light Tower / Construction Light Tower | 400W LED | 1140W Solar | 450Ah Battery
$13,500.00 – $16,580.00
Increase Profits and Efficiency. Switch your light tower fleet from Diesel to Solar. Ideal for special events, construction sites, security and any other application where on-demand lighting is desired. This system provides cost-effective bright white LED lighting without all of the disadvantages inherent to diesel lighting systems – high operating costs (diesel fuel, maintenance, labor) as well as carbon emissions, noise, fumes and light pollution.
QUICK SPECS
Solar Panel: 3 × 380W
Battery: 24V / 450 Amp Hour
Lamp: 4 × 100W LED, IP65
Controller: 60A MPPT, 95% Efficiency
Mast: 9 meters, Aluminum Alloy, Manual Winch, telescopic, 4 Sections, 50kg Load, 100KM/h Wind rating
Trailer: US Standard, Ball Hitch, Single Axle, Manual Outrigger
Charging Time: 8 hours
Running Time: 21.6 hours
Weight: 1150kg
7 Units Per 40 Foot Container
Description
The SPS 900 towable solar light tower / light trailer offers light coverage of over 3000 square meters (32k sq ft!) using four powerful 100 Watt LED Lights, powered by three 380 Watt solar panels and a 24 Volt / 450 Amp Hour Battery Bank, the SPS 900 comes standard with a 9 meter tower (7m optional) with Manual, Electric or Hydraulic lift options.  Website price is for manual rigger, ask about free upgrades and free shipping for fleet orders,  This trailer comes ready to work; fully assembled and operational on single axle trailer. Please allow 45-60 days for delivery.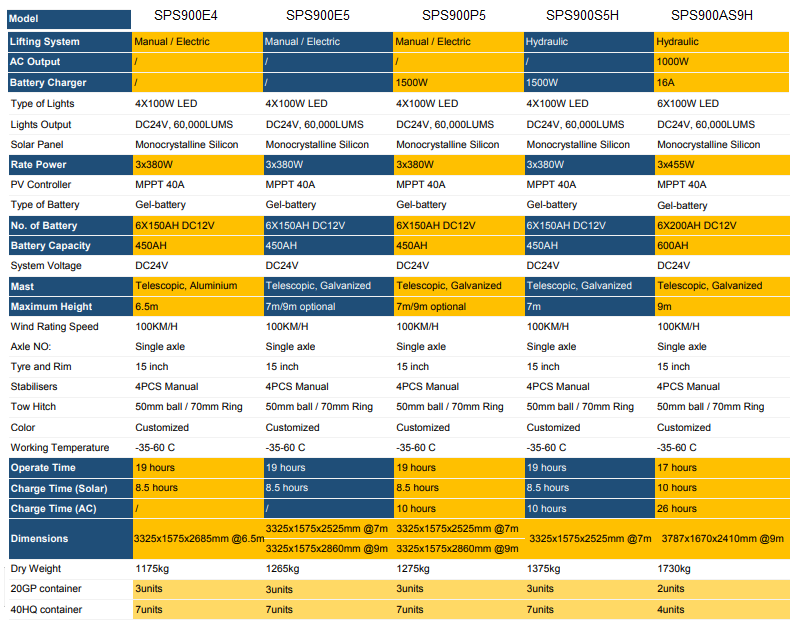 DIMENSIONS WITH 9M TOWER
3325 x 1575 x 2860 mm / 130 x 62 x 112″
DIMENSIONS WITH 7M TOWER
3325 x 1575 x 2685 mm / 130 x 62 x 99″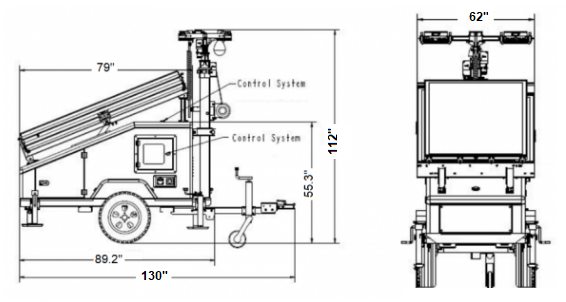 ---
---
SOLAR LIGHT TOWER COMPARISON
Wanco 750W Trailer $14,994
Wanco 390W Trailer $11,494
Larson 600W Trailer $17,510
DIESEL VS SOLAR COMPARISON
Switch your light trailer fleet from Diesel to Solar and SAVE over $75,000 in 5 years!
Fuel Cost: 0.7 gal/hr x 8 hours $35/day
Estimated Yearly Maintenance Cost: $500/yr
Total Yearly Cost (240 Work Days):  $4,820
 Total Yearly Cost of Operating Diesel: $8900
ANYTHING UNDER 19KW MUST BE ZERO EMISSIONS BY 2024 IN CALIFORNIA
Generac Light Tower
Generac Light
Generac MLT4060
Generac MLT4060KV-STD
Generac MLT4060MV
Generac MLT4060KV
Generac MLT200IF4
Generac MLT200
WACKER NEUSON LTV6L
WACKER NEUSON Light Tower
WACKER NEUSON Trailer
Additional information
| | |
| --- | --- |
| Weight | N/A |
| Dimensions | N/A |
| Battery Bank | Standard Battery Bank, LIFEP04 Lithium Battery Bank |
Towable Solar Light Tower / Construction Light Tower | 400W LED | 1140W Solar | 450Ah Battery
$13,500.00 – $16,580.00
Add to cart