In stock
48 Volt 400 Amp Hour Wall Mount LIFEP04 Lithium Battery | 51.2V | 20kWh | 400Ah
$7,895.00
TO PLACE AN ORDER 
Add To Cart and checkout with Paypal
email: sales@specializedpower.net
call: 1.855.543.3704
5% PRICE GUARNTEE ON  LiFeP04 BATTERIES!
New Design for 2022, only 6″ Wide!

51.2 Volt Actual Voltage for 48 Volt Systems

400 Amp Hour True Capacity 

Low / High Temp Shutdown Protection
RS485 PC Connectivity to Smart BMS
Heavy Duty Screw In Terminals
Inline Protection Breaker
Free Cables Included
Fast & Secure Checkout
Description
Our Best Selling Battery, The perfect alternative to the Tesla Power Wall Style Battery, This 48 Volt (51.2V) wall-mount LIFEP04 Lithium Phosphate Battery System offers 20kWh of stored power, a TRUE 51.2 Volt 400 Amp-Hour Battery System, consisting of Two 200Ah Batteries, this is the perfect battery for any 48V based system. Each Battery weight is 176LBS (80KG), and Battery Dimensions are 27.5 x 20 x 6.2 inches (700 x 508 x 160mm). The built-in Battery Management System (BMS) Protects from Over-Charging, Over-Discharging, Overload, Short-Circuit, General Overload, The BMS does have high and low temperature protection that will physically stop the charge and discharge, there is an RS485 port and cable included for monitoring and troubleshooting,  Imported. Stock Image Shown, custom cases available for any application. Due to the weight of the 200Ah battery delivery time is 45-50 days
DOWNLOADS
//51.2V 200Ah Data Sheet (pdf)
//Warranty & Quickstart Guide (pdf)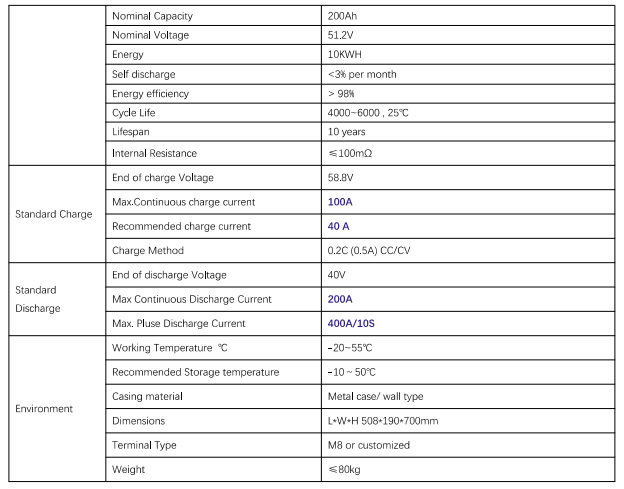 ---
WHY CHOOSE SPECIALIZED POWER?
[SCALABLE]
Our batteries were engineered by the best and most experience battery engineers in the world and are the building block for your battery system, fewer batteries mean fewer connections with less efficiency loss and fewer potential fail points. Our battery solutions have the most improvements over time.!

---
[TOP NAME-BRAND CELLS]
The most important part of your lithium battery investment is the battery cells; we use bankable brands with warranty that can be honored anywhere in the world that you can really count on many years ahead. Beware of competitors using generic components that give long term warranties that are still unproven. Count on SPECIALIZED batteries with CATL, EVE and CALB cells inside.  These top brands usually carry UL Certificates and their own warranty from the manufacturer.
---
[SUPERIOR BMS]
The Smart BMS in all Specialized Power Batteries offers easy PC Connectivity (cable and program included) for troubleshooting and monitoring. The BMS Protects from Over-Charging, Over-Discharging, Overload, Short-Circuit, General Overload and Low/High Temperature Protection. If there is any problem with your battery its easy to connect and find the EXACT cell causing an issue making Specialized Batteries easy to service. The BMS PROGRAM shows Battery capacity, Battery Voltage, Battery current (Amps), Battery State of Charge (SOC), Battery state of Health (SOH), Battery Status, Individual Cell Voltage, Temperature and Battery Cycles. Our batteries have the most improvements over time in both form and function.
---
[INVERTER COMMUNICATION]
All SPECIALIZED 24V and 48V lithium batteries connect via CANBUS or  RS485 with top inverter brands such as Sol Ark, Growatt, SMA and Schneider. The inverter will read the SOC Information from the battery in real-time and then adjust the corresponding Charging and Alarm according to; the different SOC states, Forced Shutdowns, Fault Protections, Power On, etc.
---
[BETTER PARTS & ACCESSORIES]
Low Temp and High Temp Shutdown Protection
SMART BMS with Communication via RS485
Rugged Front Mount Screw in Terminals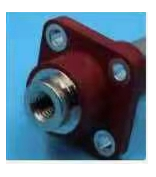 ---
[CUSTOM BATTERY EXPERTS]
We SPECIALIZE in custom battery case designs for any application. You can also choose Discharge Current (up to 2C) and Charge Current, terminal size, style and location.  Email sales@specializedpower.net for a free consultation with the top custom Sales Engineer in the lithium battery industry with over 13 years experience. Let's discuss your project or application. We will maximize your space and offer a complimentary sketch with final dimensional drawing to confirm after order is placed, before production begins.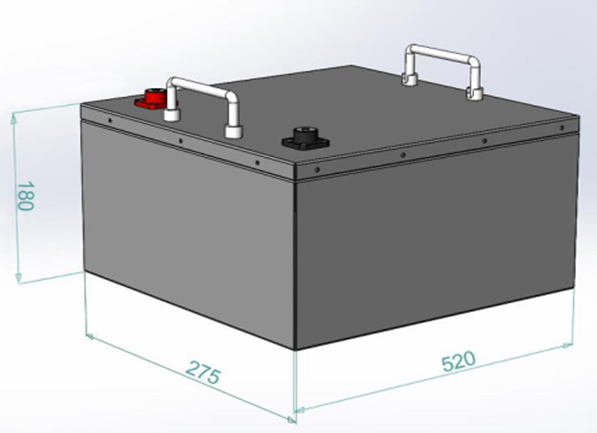 ---
[THE MOST BATTERY CASE OPTIONS]

The Decision is Easy! We have The Right Battery at The Right Price. SPECIALIZED for your application.
Email: sales@specializedpower.net
Text: 855-543-3704
---
[BENEFITS OF LITHIUM]
Lithium batteries offer stable performance with superior life cycles when compared to Lead Acid, AGM or Gel batteries, Lithium batteries are only 3 times the cost of AGM batteries but offer nearly 10 times the life cycles and require zero maintenance. Specialized Power System Batteries are the Best LIFEP04 Lithium Batteries in the world at the lowest price possible. Constructed using top quality 3.2V Prizmatic Lithium Cells. All of our batteries are guaranteed to be constructed with superior quality.
#Solar #energystorage #homedecor #homeimprovement   #lithiumbatterypack
#Lithium #battery #powerwall #Tesla #worldclass #custombattery #offgrid #vanlife  #tinyhome #modernhome #cabin #ess #outbackpower #solarpower #solarinverter #lifep04 #48V #72V #24V #teslasolar #sunrun #vivint #freesolar #solarrebate #Trophy #sok #signature #48V #BestLithium
48 Volt 400 Amp Hour Wall Mount LIFEP04 Lithium Battery | 51.2V | 20kWh | 400Ah
$7,895.00
Add to cart